Collecting The Jewel by Amy Ewing
In this debut book, The Jewel … the city of the royalty …  turns out not to be as glittering to Violet as it is potentially dangerous.  Born in the Marsh, she has been raised and trained to be a surrogate and servant for the Duchess.  The royalty of the Jewel are not capable of bearing healthy children.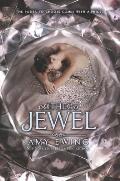 The Jewel is a place where there is much cruelty and violence.  And a forbidden love affair may cost Violet her life.
The book is being compared to Margaret Atwood's A Handmaid's Tale and The Selection by Kiera Cass.
 The Author
Amy Ewing is a graduate of the New School's MFA program in Writing for Children, and has a BA from New York University. As the daughter and granddaughter of librarians, it is not surprising that she a writer. She lives in New York.
Collecting the Book
Though this is another dystopian novel like The Hunger Games, the author has built an intricate, detailed world that teenagers can get caught up in.
The author has credentials similar to Kristin Cashore (Graceling) and the title and cover art are excellent.
But the novel has other similarities to The Hunger Games … multiple starred reviews.  Three from the normal sources I look at and another two from School Library Journal and Horn, two young adult review magazines.  The rating is 69.  And this is the first book in a trilogy.
Ms. Ewing has a great web site at amyewing.com . Plus best of all, the author is on tour this month and next.  She will be at three Barnes and Nobles stores and three other bookstores including The King's English in Salt Lake City (on Oct. 10) which I highly recommend.
A large first printing seems to be the only thing that could prevent this book from being highly collectible.  But at $17.99,  it's inexpensive and a good speculation.