We Are Not Ourselves by Matthew Thomas
This debut book is set in Queens, New York in the 60s.  When young, Irish Eileen Tumulty meets scientist Ed Leary, she is at first thrilled.  But after they marry the good life she expected never seems to come.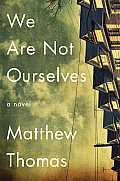 Eileen encourages Ed to find a better job, get more influential friends but he resists.  And instead, a darkness sets in over their family.
"In his powerful and significant debut novel, Thomas masterfully evokes one woman's life in the context of a brilliantly observed Irish working-class milieu… a definitive portrait of American social dynamics in the 20th century. Thomas's emotional truthfulness combines with the novel's texture and scope to create an unforgettable narrative." Publishers Weekly, starred review
The Author
Mr. Thomas was born in the Bronx and grew up in Queens. A graduate of the University of Chicago, he has an MA from the Writing Seminars at Johns Hopkins University and an MFA from the University of California, Irvine, where he received the Graduate Essay Award.
He lives with his wife and twin children in New Jersey.
Collecting The Book
We Are Not Ourselves has earned two starred reviews and is an Amazon August Book of the Month.  It has a rating of 61.
The book was released by Simon & Schuster on Aug. 19.  A UK edition is also available by Fourth Estate.
It has also been long-listed for the Guardian First Book award.  (Fiona McFarlane's The Night Guest, a collectible Book of the Month last year, is also on this British award's long-list.)  Books of any genre can be selected for the award.
He will be signing at Book Passage on Sep. 16 and at Rainy Day Books in Fairway, Kansas on Sep. 23.
I could not find his web site so he may be signing at other book stores.  Check the ones nearest you.